Once breastfeeding is well established, baby will latch and transfer milk well in any position. He will likely do it all on his own, too! While you're first establishing breastfeeding though, obtaining a deep latch is important. Baby may need your help. At the beginning, you will be able to obtain a deeper latch in some positions over others. Let's help you discover the proper breastfeeding positions for different scenarios.
Guideline checklist for all proper breastfeeding positions
The following tips apply to every breastfeeding position we'll discuss. This is a useful checklist for Mom or especially the support person who is with her when she's latching. Sometimes Mom really wants baby to latch quickly so they can go back to sleep or baby will stop fussing. It can be too much for mom to think about these proper breastfeeding position tips. Someone else who can observe and give suggestions is a huge help!
1. Laid Back Breastfeeding
Laid back breastfeeding, also called biological nurturing, is how you will most likely latch baby the first time. More about that first feeding, here. This is a great position to continue. Though mom has a little less control here than cross-cradle or football hold, baby is able to do more. If mama gets stressed, turn the lights down, recline her position, and watch everyone calm. This is also a good position if baby is struggling to handle Mom's large or fast milk supply.
Here is another example of laid back breastfeeding where the mother is more reclined.
2. Side-lying Breastfeeding
Side-lying is a great position if Mom is tired or at risk of falling asleep. Which, let's be honest, is all the time. She went through labor, delivered a baby, and has now been feeding this baby around the clock. Plus, breastfeeding releases oxytocin which makes her sleepy. So, she is always at risk of falling asleep. Side-lying is the safest position because if Mom falls asleep, her arms are not holding baby. Neither of them are likely to move. To make this position safest, it should be done on a firm mattress without large, fluffy blankets. For more information on safe sleeping I highly recommend Professor James McKenna of The Mother-Baby Behavioral Sleep Lab. He shares how mothers are hardwired to protect their babies while they are asleep,
Just like with Dr. Thomas Hale and the impact of medications on breastfeeding, we don't have to be unsure, scared, or guess. There are people doing research on these things. Their findings and how the human body functions are amazing! Your body was made to do this.
How to breastfeeding side-lying
3. Football Hold
Football hold is the hold where Mom can see and evaluate the latch best. It is useful after c-sections because baby isn't laying on Mom's stomach. She has a lot of control over how and when baby latches in this breastfeeding position.
4. Cross Cradle
Like football hold, in cross cradle, Mom has a lot of control over when and how baby latches. This makes it an ideal position if baby needs help latching deeply. Your hand positioning is actually the same as football hold, you just move your arm across to the other breast.
5. Cradle Breastfeeding Position
You will probably use the cradle position most of the time after breastfeeding is well established. It's similar to how we typically hold babies. Until baby can do it on his own, it can be difficult to obtain a deep latch in this position. If you're struggling to obtain deep latches or having pain with latching, I do not recommend this position yet.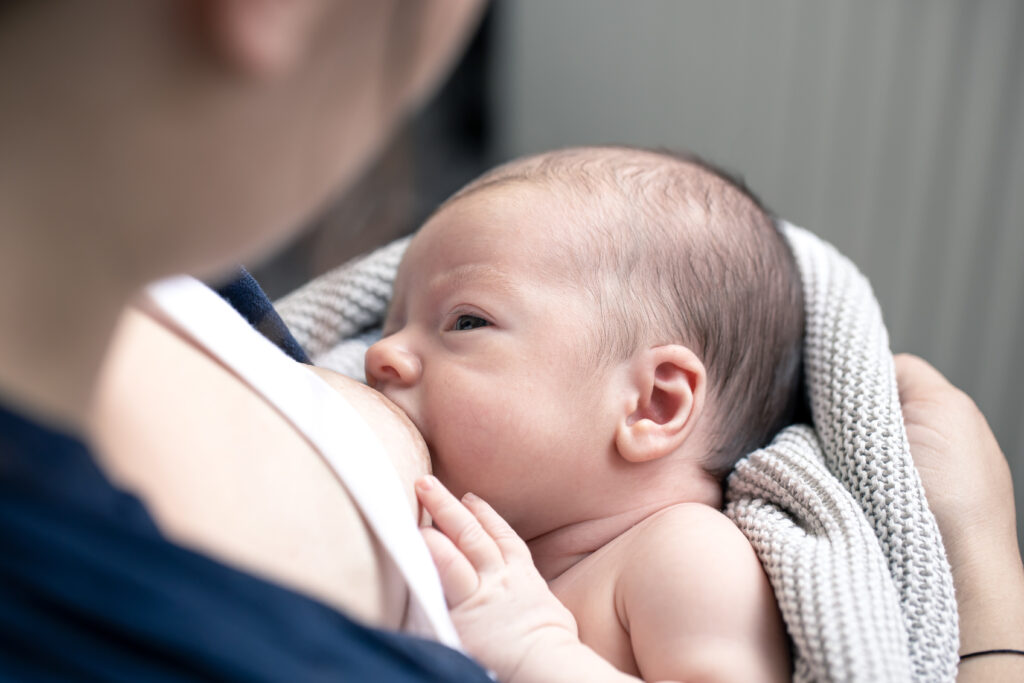 To recap all of the information on proper breastfeeding positions I have a favorite video to share with you!
I hope that helps you be comfortable as your nurse! For more information on obtaining deep latches, check out this article. What is your favorite breastfeeding position? Comment below!
Share to help your friends latch better!
As an Amazon Associate I may earn from qualifying purchases.