Let's walk through what breastfeeding the first week might look like. I am intentionally not saying "what you need to know the first week" because you don't NEED anything. Plenty of people around the word breastfeed without knowing any of this. You've got this! Let's talk about some things that might be helpful.
Right after delivery
Right after baby is born, he will likely be placed on your stomach. If you had a natural birth and you're in a different position, then once you feel ready, pick babe up, snuggle him to your chest, and turn yourself over.
Take a deep breath. You can rest now. You did an amazing job! Take your time looking over your baby. You and he should be skin to skin. This helps him calm, stay warm, smell you, and regulate his breathing and heartrate. He should stay skin to skin with you until after the first breastfeeding is completed and for at least the first hour.
I love this video about breastfeeding in the first hour.
Watch and wait as your baby goes through all their stages
While your baby is skin to skin with you after delivery, they will go through many different stages. They're interesting, but it's not important to have them memorized. The key is to give your baby time to go through these stages as they find their way to your breasts. You don't want to rush them. When newborns are allowed to go through the stages and latch on their own we find they breastfeed better over the next few days.
On average, a baby latches to the breast around 60 minutes after they are born. Since that is the average, that means it's perfectly normal for a baby to take more time than that to latch! Patience is crucial! For so many reasons, your baby should stay skin to skin until they latch and breastfeed. All their assessments should be done while they're skin to skin with you. Their weight needs to wait until they are done breastfeeding.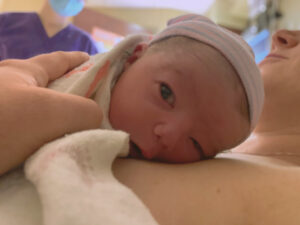 Baby's activity day 1
Your baby is super active and capable of so much movement during these first two hours after birth! Look how strong his neck is! Did you know, each movement of his hand to his mouth is important? Studies show a correlation between the more times a baby moves his hand from mom's breast to his mouth and transferring more milk over the first few days.
After about 2 hours, baby will start to get sleepy. He will likely remain pretty sleepy for the next 24 hours. It is important for mom and dad to nap now! You have probably missed some sleep plus had the most intense workout of your life. Your sleep will be interrupted every few hours over the next months so this sleep is important. Silence your phone if you can because you'll likely be getting lots of messages. Try setting a time limit for any communication so you don't waste your nap time on your phone.
Baby's goals the first week, day 1
A newborn's goal is typically to breastfeed at least 8-12 times per day. But the first day is a little different. The average new born shows feeding cues only 6 times on day 1. So, don't worry if your baby is too sleepy to nurse 8-12 times today.
Every time baby shows feeding cues, or every 2-3 hours, place him skin to skin on your chest. Give him some gentle guidance as he moves to find the breast. Hand express some breastmilk if he needs help getting interested or finding the breast. Try different nursing positions throughout the day.
When he latches on, his mouth should be wide open and he should be covering a lot of breast tissue, not just the nipple. As he suckles, you should see big slow jaw movements. If you only see small, fast movements of his mouth or chin he probably fell asleep or he's not latched far enough onto the breast. No big deal, that happens a lot when he is first learning! Gently place your finger in his mouth to break his seal and pull him away from the breast. Then you can try again to get a deeper latch. You can also gently squeeze your breast while he's nursing to help him transfer more milk.
What if he's too sleepy to nurse day 1?
It is fairly common that babies are extra sleepy day 1. This is no big deal, you can help him. Every 2-3 hours, place him skin to skin on your chest. Talk to him and rub his back and head. If he doesn't wake up to nurse after 20-30 minutes, express some milk from your breasts onto his lips. If he still doesn't wake up, you can express some milk into a spoon. The first part of this video (the password is lactation) shows how. So does this video by Dr. Jane Morton. Or ask your lactation consultant!
Spoon feeding your baby breast milk that you have expressed helps by boosting your milk supply and by getting baby extra milk to help him wake more.
Keep hold your baby skin to skin
Continue to hold your baby skin to skin often! Not only is this the closest he can get to everything he knows but it helps to change your brain, too, so you are more bonded with him. It boosts your milk supply and helps him latch better.
Your day 1 priorities are:
hold baby skin to skin a lot
sleep
work on latching
practice hand expression
Enjoy your sweet little one! Do you know a pregnant mama who could use this information? Share it with her!